When looking at the current global events, very many people from around the world are asking is Islam a religion for peace, or is it one that fuels brutality, violence and terrorism.
We live in a time where every individual has access to instant information, whether it is from the mainstream media or from independent reporters, or even from normal people thanks to social media. The problem being that with such a wealth of information and resources, it becomes difficult to keep up with what is actually going on; especially when there may be hidden agendas involved.
However, when looking into this particular question, it would be easy to switch on the televised news and think Islam is all about violence and terrorism. Every time there is an atrocity involving a Muslim, the headlines flow out about "Islamic Terrorism" or "Muslim Extremist" etc.
Using quotes to back up opinions
To back up claims that Islam is about violence and brutality you'll often come across people highlighting quotes from the Quran, Islam's holy book. There are serious issues when this happens.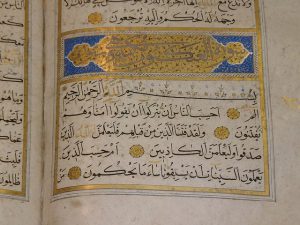 First and foremost, the Quran is written in Arabic. And it's not even the Arabic of today, it's the Arabic of over 1400 years ago. Why is this relevant you may ask? Well, put it this way. I have a very good command and understanding of the English language, if I do say so myself :-P. However, put the finest Shakespeare text in front of me and I wouldn't have the foggiest clue of what's happening.
Now how many people quoting the Quran actually understand Arabic? How many of them actually understand the Arabic of 1400 years ago?
Furthermore it is not just about understanding the language; of course there are many great works of translation out there. The biggest problem is that people take quotes completely out of context and twist them to however they see fit.
What does Islam actually teach then
Yes the Quran does contain quotes about using violence…but there's a context surrounding such quotes. The Quran, and therefore Islam, first and foremost teaches peace. The word Islam itself means peace. When Muslims greet one another they do so by saying "Assalaam'alaikum"  meaning 'Peace be unto you.'
The essential teachings are to be peaceful, to be tolerant, to be patient and respectful. BUT, and this is the crucial word, BUT…if someone attacks you, or oppresses you, or deals with you unjustly, only then can a Muslim respond in like manner. In other words, a Muslim may use violence for self-defence, and only as a last resort, as it is still encouraged to bear with the injustice patiently instead.
But they always talk about Jihad…
One of the most misused words today is the word "Jihad". This word actually means 'to struggle' and is about struggling for the cause of Islam. So yes in one aspect it is about fighting for Islam, but the fight isn't about an oppressive offensive action. Again it's mainly for self-defence when it comes to that kind of fighting.
But there is a bigger Jihad that Islam refers to, and that is the Jihad against oneself. In other words, Islam talks about and places more emphasis on the human's struggle against himself, i.e. his struggle against his desires, his bad habits and his struggle for being a better person etc.
What about all the terrorists
Part of being a Muslim is to be selfless and help humanity, and to perfect character. Yet at the end of the day Islam is a religion, and the Quran is a book of guidance. It comes down to the individual person as to how he chooses what to do with that guidance.
There are undoubtedly Muslims who are wreaking havoc and engaged in brutality around the world; in short, there are Muslim terrorists. But do they accurately reflect the entire religion and the entire Muslim population?! Absolutely not.
There are approximately 1.6 billion Muslims on the planet, if Islam really did preach violence the world would be facing imminent extinction. If you really have to ask what about all the Muslim terrorists then why not also ask what about all the peaceful Muslims? Tally the numbers up and see which side has more.
What are your views about Islam? What have you heard or come across regarding Muslims and the Islamic faith? Please share your views and queries.